Support My Husband To Undergo A Spinal Surgery
My husband has been lying on the hospital bed after suffering a spinal injury that made him helpless. I have four kids to care for, and my youngest is 8 months old. As a result of this tragedy, our lives have changed forever.
We got married 12 years ago, and never in my worst dreams did I think something like this would come to pass and forever change our lives. A tragic event happened when my husband ( Shiv Singh) fell from the roof around 11 in the night, which completely changed our lives.
Just like the similar nights he usually drinks after work, he was a bit drunk that day as well. As soon as my husband got home, he ate dinner and went to sleep. But what followed in the morning turned my life upside down. Our neighbors woke me up while I was sleeping to inform me that my husband had fallen. He has fallen in the night from the roof. Hearing such a thing was at first a nightmare. The moment I saw my husband had fallen to the floor, I panicked like any other wife. Somehow gathering all my courage and sorrow I got my husband into an auto rickshaw and brought him to AIIMS as quickly as possible. 
When the doctors told me that he had a spinal injury, I started seeing flashes of my life and my kids. The doctor told me that my husband will require treatments and treatments have a cost. It's been so long since he was admitted to the hospital. His treatments demand funds. Due to the fact that my husband was the sole earner of our family, I do not have the funds. It is now impossible for us to take care of ourselves.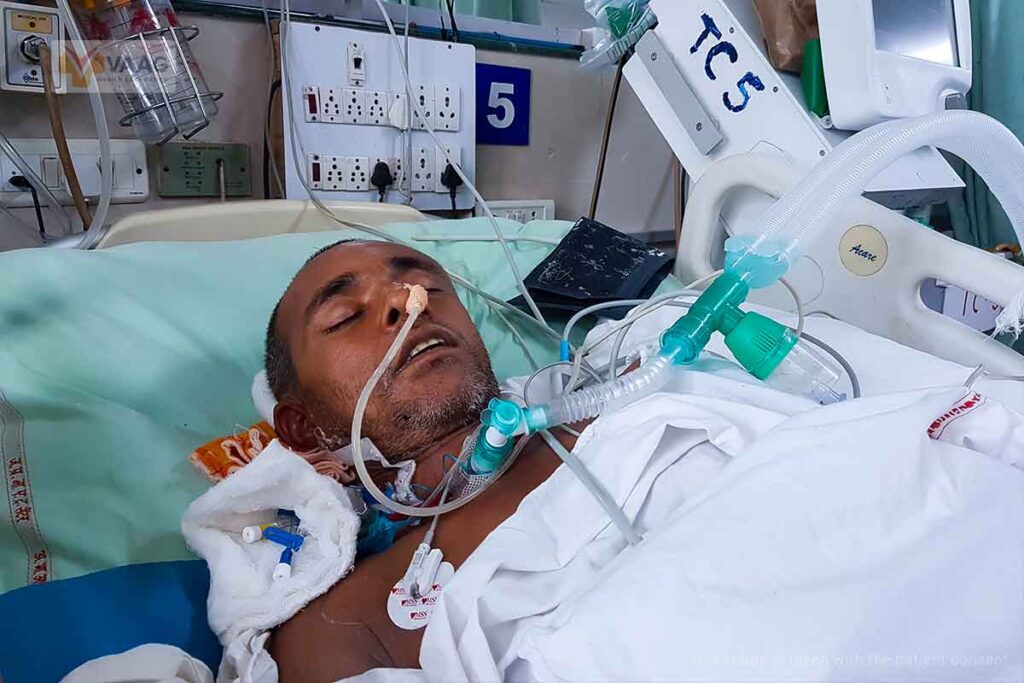 At the time I brought my husband to the hospital, I had no money at all, not a single rupee. We do not have a stable financial situation. As the sole earner of our family, my husband used to manage and earn money, but now things are different. With four kids, no money, no food and a husband fighting for his life in the hospital, I can't do much but hope that someone will help me.
There's no food to eat, so all my kids work somewhere and work hard here and there to get a meal. The hospital gives me one meal that is given to one patient member besides my husband while he stays in the hospital. 
It's all blank to me. Almost every day since he's been admitted here, doctors prescribe him medicines. It sometimes takes me begging and requesting people to get these medications. I join my hands in front of people and ask them to assist me with my husband's treatment. We have no hope of surviving without him, but he is in no condition to take care of us. 
Please help us in this situation by donating so we can get my husband the treatment he needs. Under such conditions, it is difficult for an underprivileged family to survive on their own. We would appreciate any help you may be able to provide. Our survival will be difficult if you do not help us. 
What makes VAAG health unique?
As a nonprofit organization, we recognize the importance of our donors in providing assistance to the needy. As a way of strengthening our bond with you, we show you how your donations are being used in the lives of the needy through photos and videos that will be shared with you for life irrespective of the duration of your donation. We provide you with these proofs to give a sense of how your donations are being used. You will also get a 100% refund if for any reason you are not satisfied with the use of your donation.