Manish is a spinal-injured patient whose family needs your help.
There are even people who are educated looking for jobs but not getting them. Who will ask the uneducated?
Unfortunately, this is true. These are the words of an elder brother who fights every day for his brother's life. This is the story of Manish Shukla, a 40-year-old resident of Ghaziabad, who fell from stairs on the night of 20th June and his entire life got shattered.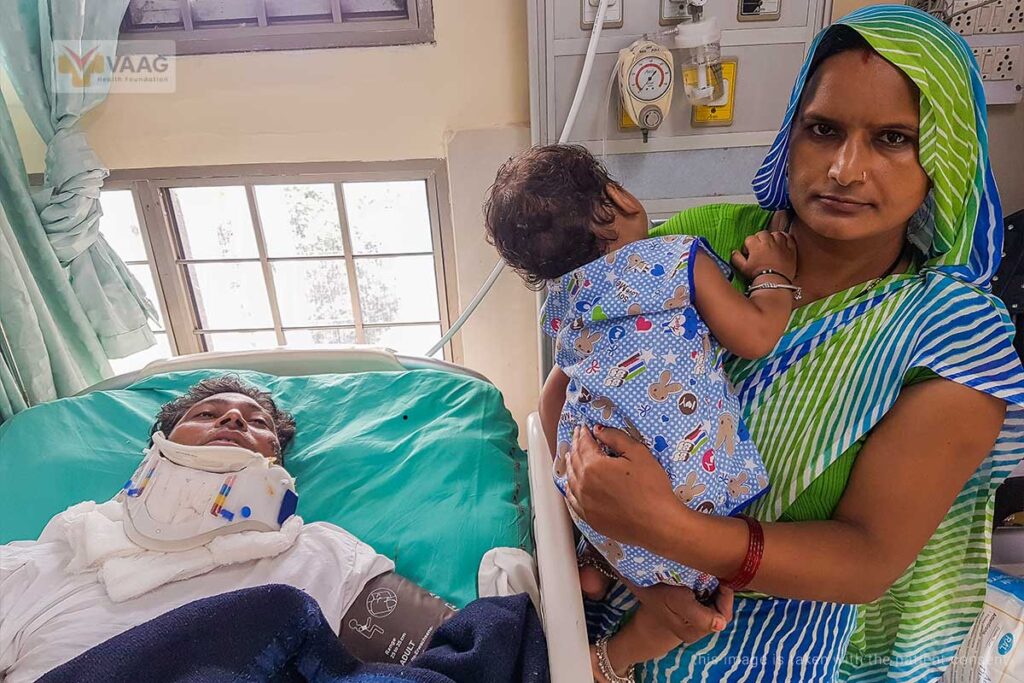 The Incident: 
As a result of slipping from the stairs, Manish sustained a serious head injury. The unfortunate thing was that nobody was there to help him in that condition and that he lay there the whole night from 7 pm till the next morning. He was seen by his neighbors the next morning only and an ambulance was called. 
What makes VAAG health unique?
As a nonprofit organization, we recognize the importance of our donors in providing assistance to the needy. As a way of strengthening our bond with you, we show you how your donations are being used in the lives of the needy through photos and videos that will be shared with you for life irrespective of the duration of your donation. We provide you with these proofs to give a sense of how your donations are being used. You will also get a 100% refund if for any reason you are not satisfied with the use of your donation.
As his neighbors recall Manish's condition, since no one was present when he fell, he laid down for the entire night by himself and was covered up in ants in the morning. As horrifying as that sounds, it's quite tragic. 
Manish was admitted to the hospital in the ICU and is being taken care of by his elder brother and Manish's wife. Talking to VAAG his brother emotionally stated that: Manish won't be able to live a normal life now. His injury is so serious that doctors have stated that he won't be able to walk again on his own. This made the situation even worse. 
Until now, Manish has over 1 lakh debt that has been used in his treatment, and he does not know how he will pay for more treatments. Since he was the only earning member, they have no money to live on. His wife cannot work because she is uneducated. "There are even people who are educated looking for jobs but not getting them. Who will ask the uneducated?"
In addition to being a driver by profession, Manish is the only person in his family who earns a living. His family consists of his wife and a 1-year-old child. The fact that he is a driver makes his financial situation quite apparent. Among his family members, only Manish earns a living.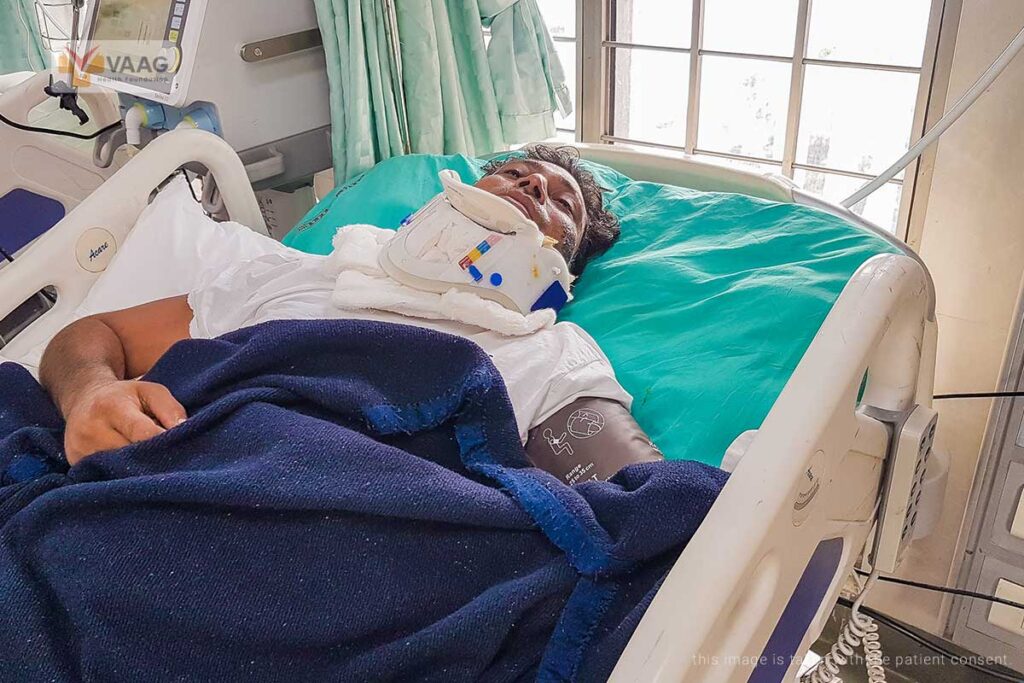 He also stated that Even if she tries to work, who will look after Manish in the hospital? And who will take care of their child? The only thing his brother wants is for Manish to get the treatment so that he can at least sit this much help he demands through donations. 
As we listen to this, we can only imagine how much pain he and his family are going through as a result of his medical condition and financial situation. When you hear about stories like these, it's easy to ask, what can I do? Where should I donate? With no savings, Manish and his family don't have a lot of options. Money is a major factor, as he has lost all of his savings and couldn't work at all for months because of the spinal injury. 
In this situation, you can be a lifesaver not only for Manish but for his family too. Help them survive these tough conditions through your donations. 
Whenever possible, make a donation. Whether your donation is 100 rupees or more, it matters.