One event changed the course of life for Bablu
A tragic event changed Bablu and his family's lives forever. After falling from his roof at 7:30 in the evening, he sustained a head injury. After being admitted to the hospital, doctors declared that he had a spinal injury and an injury to his head. There, life was halted for them. 
Family Condition
Bablu is the only member of his family who earns a living. Now that he's admitted, his family suffers so much because they don't have any support financially. He comes from an underprivileged section of India. The kids are doing laborer's work and paying rent for him. His wife is the only person who is taking care but is very tense. Neither do they have a place to live nor do they have a way to eat or prepare food. Having no secure place to live makes it very difficult mostly during the rainy days. 
What makes VAAG health unique?
As a nonprofit organization, we recognize the importance of our donors in providing assistance to the needy. As a way of strengthening our bond with you, we show you how your donations are being used in the lives of the needy through photos and videos that will be shared with you for life irrespective of the duration of your donation. We provide you with these proofs to give a sense of how your donations are being used. You will also get a 100% refund if for any reason you are not satisfied with the use of your donation.
Hear from his wife
Her only desire is that his family receive financial support for his husband's treatment. But they are in such a bad situation that they have no other options to choose from. His wife has been taking care of him, but she is becoming tensed every day. She worries about her children, who work as laborers and pay rent. There ought to be a stable place for them to live, where they can prepare and eat their food, where they can receive an education, and where they can have money for other necessities of life as well.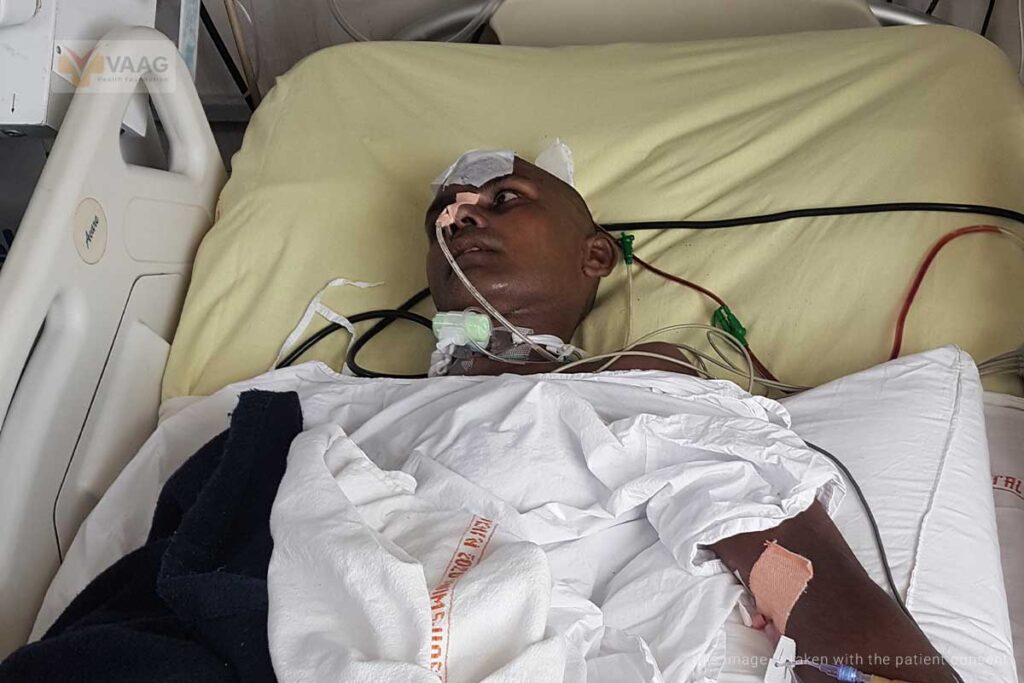 The cost of spinal injury treatment can reach lakhs of rupees. They fight every day to find out how he will get treated now that they have been in this situation. In such a tragic situation all you can do is help them lead a normal life. This can be done by joining us in our campaigns like Adopt a Patient or adopt a patient's family or by simply donating funds to help them get treatments.
VAAG Healthcare requests you to support them if possible. You can help them and save their future. Donate today.