Alert but ventilator dependent - Is it possible? - Devesh
28-year-old Devesh, met with an accident while returning back to home. He was riding a bike and was accompanied by two more people. The accident was so dangerous that they were taken to the hospital where he was admitted to the ICU. 
It's been four to five months since he has been admitted to the hospital. He had been unconscious since then and was not responding to any stimuli. His family was worried about him and rushed to the hospital. After reaching the hospital, the family was informed that their Devesh might have suffered some brain injury. The doctors told Devesh's family that if the swelling in his head did not go down soon, he would die. So, they decided to take him to the ICU where he could receive medical attention. As a consequence of the accident, Devesh has been paralyzed due to spinal cord injury. His little brother takes care of him now and visits the hospital every day. 
After being admitted to the hospital, Devesh was given the best treatment possible. Doctors tried their level best to help him regain some movement in his body. However, nothing worked out for Devesh. He remained bedridden for almost four months and still is. (Tweet)
Devesh's Family Background
Devesh belongs to the underprivileged section and does not have much savings or funds to get a better life. He needs to earn daily to cope up with regular basic expenses.There are four members of Devesh's family: his wife, child, younger brother, and parents. As his wife is a housewife and his child is so small that he needs a father figure, he was the only earning member of his family. Since nobody in the family earns it is very difficult to take care of the family. Everything in the family has stopped since the accident. Nobody can live a normal life since the incident. And we all can agree that it affects everybody's lives in the family if even one member is in trouble. 
It has been very difficult for all the family members as they don't know whether they will have anything to eat or not in the coming days as the treatments cost a lot. Survival after such conditions is also very difficult because of these types of injuries, which means that individuals must rely on family and friends for support. In some cases, insurance companies will cover a small percentage of expenses related to accidents but this rarely covers all costs associated with the aftermath of an injury. This has made his and his family's life not less than a mess. 
A Difference that you can make in Devesh's life
Let's imagine that you made a donation and made a difference in the life of Devesh's family. Think of how peaceful you will be. The VAAG focuses on helping the underprivileged sections of India, especially those who have lost all their hope in the future. Its mission is to provide medical attention to those who need it but cannot afford it due to a lack of funds. In addition to helping the patient, you can also help his or her family members. You can help any family member learn a skill set that will be useful in the future through your donations. At least they are able to live their lives and take care of the family on their own.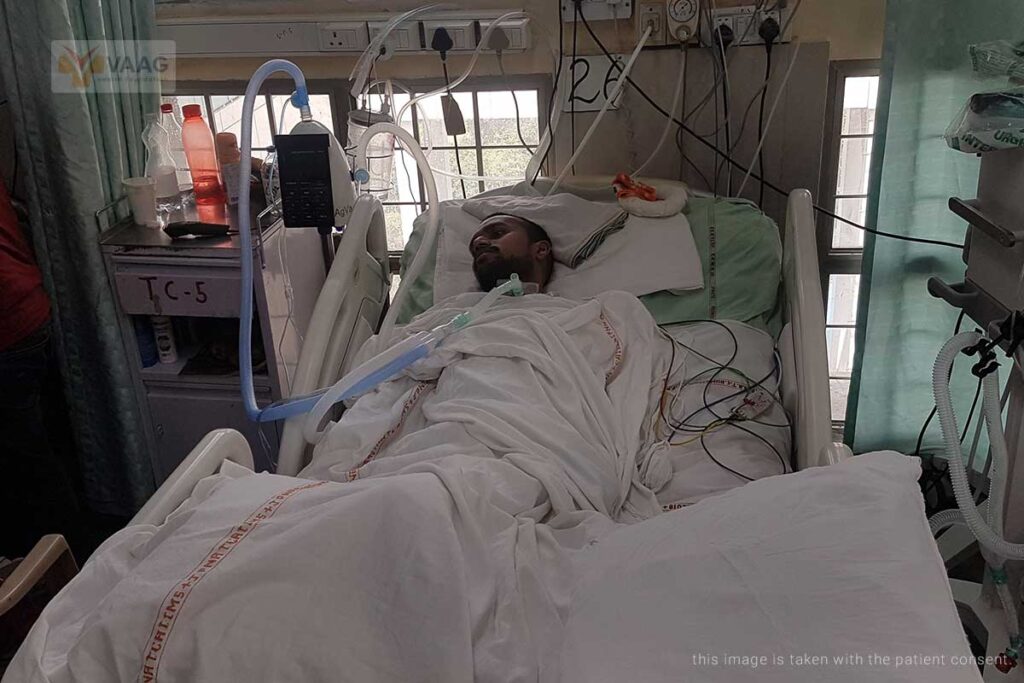 VAAG strives to help those who genuinely need the help. But we can't do it without your support. We have various campaigns that accept donations and funds that are used for the treatment of patients who are not financially stable to afford such big treatments. If you wish to pay for a patient's treatment and want to provide them with some medical help you can enroll in the 'Adopt a Patient' scheme. If you wish to help the family of any patient after they are no longer alive you can opt for the 'Adopt a patient's family' scheme.
If you wish to save Devesh's life you can do so by donating whatever fund you feel like. Your contribution will help Devesh and many others receive the treatment they need to improve their quality of life. All donations go directly towards helping those affected by spinal cord injuries. Donations are a powerful tool for supporting the treatment of patients with spinal cord injuries. Not only can donations help cover the costs of medication and rehabilitative equipment, but they can also be used to support the long-term care of patients.
What makes VAAG health unique?
As a nonprofit organization, we recognize the importance of our donors in providing assistance to the needy. As a way of strengthening our bond with you, we show you how your donations are being used in the lives of the needy through photos and videos that will be shared with you for life irrespective of the duration of your donation. We provide you with these proofs to give a sense of how your donations are being used. You will also get a 100% refund if for any reason you are not satisfied with the use of your donation.