24 Ventilators deployed within 24 hours in AIIMS, New Delhi
Coronavirus disease 2019 (COVID-19) was first reported in Wuhan City, China, in December 2019. On January 30, 2020, the World Health Organization declared COVID-19 a pandemic, and on March 11, 2020, the Indian Council of Medical Research announced the first case of coronavirus infection in India. As of April 6, 2020, the total number of confirmed cases of COVID-19 in India stood at 5,945, including 1,049 deaths. 
The second wave of Covid-19 and its impact
In the second wave of COVID-19, severe cases of COVID-19 surged, causing a shortage of healthcare resources at all levels. Many patients were suffering from severe COVID-19 and required ventilator support. In some cases of chronic obstructive pulmonary disease (COPD), patients needed ventilators for breathing. The Primary treatment consisted of ventilation (NIV or IV) and supportive treatment using corticosteroids. As a result of the lack of infrastructure and healthcare facilities, such as mechanical ventilators, there were many deaths in India. (Source: PDF)
Ventilators supply shortage - How does VAAG come to the rescue?
This is according to a prospective study conducted in the Emergency Department of AIIMS, New Delhi. The study was done in the emergency department of AIIMS, New Delhi, India. (Source: PDF)
During the second wave of COVID, which occurred between 4th May and 15th June 2021. VAAG health foundation turned out to be the life savior of several patients who were experiencing severe breathing issues due to covid 19.
Within 24 hours, they provided ventilators to the patients which saved many lives. There were 24 AgVa ventilators deployed in the Emergency Department by VAAG. The study looked at how well ventilators work and how patients do when using them which was extremely positive.
Twenty-four ventilators were used in the Emergency department (ED) during the second wave of COVID. It helped the health infrastructure in the ED. There were severe covid patients whose saturation was less than 90% and who needed NIV or IV on Ventilators. 
It was also seen that Using the ventilator, the cost of respiratory care in COVID-19 patients was reduced by 80% as compared with standard ventilators. The utility of ventilators was assessed in a Delhi tertiary care hospital's emergency department during the peak of the second COVID wave provided by the Indian government during the pandemic.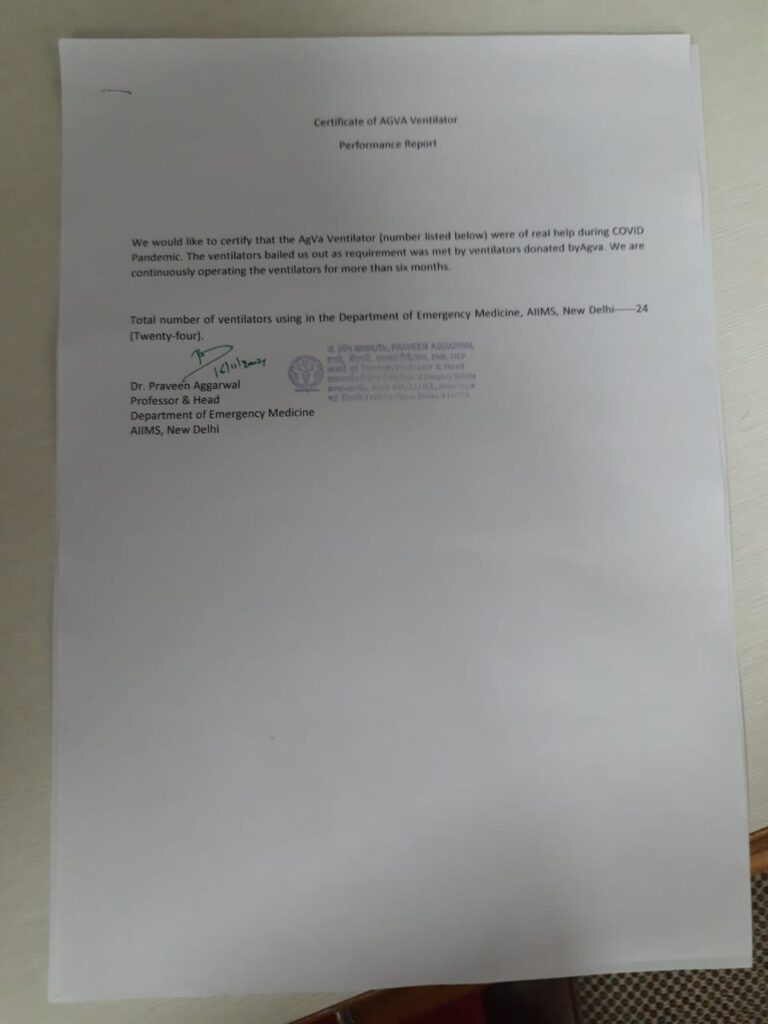 A Certificate of Appreciation was presented to VAAG by Dr. Praveen Aggarwal (Physician and Head, Department of Emergency Medicine, AIIMS, New Delhi) certifying that VAAG donated 24 ventilators during the pandemic, which helped doctors save patients' lives. Additionally, they mentioned that they have been operating these ventilators for more than six months now.
As a result, ventilators played an important role in saving the lives of covid 19 suffered patients who were having breathing issues. As the country faced a dire shortage of medical equipment, including ventilators, one of the most pressing needs of the time. It was a great effort for VAAG to arrange 24 ventilators within 24 hours, but they did so in the end, saving many lives. 
What makes VAAG health unique?
As a nonprofit organization, we recognize the importance of our donors in providing assistance to the needy. As a way of strengthening our bond with you, we show you how your donations are being used in the lives of the needy through photos and videos that will be shared with you for life irrespective of the duration of your donation. We provide you with these proofs to give a sense of how your donations are being used. You will also get a 100% refund if for any reason you are not satisfied with the use of your donation.